Tag: MMA
7 home dogs this week!
Buffalo ML +150
I have folks in my stream loving the +3…..but Denver is a bit over rated in my view after getting two weeks of home cooking. Buffalo is quietly has started as one of the best defenses in the NFL. Trevor Siemian due to go back down to earth here and I think its more of a coin flip game than people realize. Also West Coast team playing a 1pm start.
Chicago +8 (-120)
Our rule: if Big Ben and the Steelers are more than 7 point favs in any game, its +EV to take the other team. Chicago coming off an ass kicking, both injury and score wise, in Week 2 vs Tampa….. but they are 1-0 ATS at home so far this year and I can see the Steelers fucking up on special teams or get a bout of the "3 and outs" for a quarter or two and keeping the inferior Bears hanging around.
Texans vs Patriots Over 44.5
I know the Texans' offense stinks, but they will find plays versus Belichick's soft zones which are designed to keep Watson in the pocket and prevent the big play. Patriots maybe banged up but they will always find a way to score 30+ at home, like they did in the playoff game last year. Also count on a Houston special teams fuckup in Foxboro, they do it every year.
Atlanta vs Detroit Under 51
Did you know the under has hit in 70% of the games so far this year? And that *3* teams have *0* fucking touchdowns? I expect this game to be a close affair between two teams who may see each other in the playoffs. Atlanta's offense is different on the road than they are at home.
TEASER (+150):
Packers -8.5
Panthers -6
Indianapolis +1
DFS: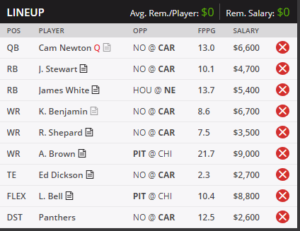 Bellator MMA Bonus:
Larkin vs Daley Under 2.5 Rounds -115
These two motherfuckers hate each other. This fight wont be about just getting a "w".