Category: Other Sports
I was going to do a "control" pick – kind of like when they have an animal pick games against the expert, or when Bill Simmons picked NFL games against his wife – because my interest in/knowledge of baseball is at an all-time low, and I didn't know much about it even back when I cared.  So I thought it might be interesting to compare my know-nothing/random picks to two guys who actually follow MLB.  But then I realized that even staring at a list of team over/unders for 10 minutes and pretending to have any opinion would be way more time and attention than I'm willing to commit to baseball.  So in lieu of that, I present my Canadian Football League over/unders!
All lines were made up by me, because no one has posted any CFL over/unders, and I doubt anyone ever will.  But Bodoga does have 2012 Grey Cup odds currently posted, and the win totals I made up do roughly follow those odds posted at Bodoga, so they should be pretty fair.  And even if they're not, I don't know anything about how good or bad any team is, so I'm still shooting blind. I'm assuming that CFL teams play an 18-game regular season schedule (Roger Goodell is SO HARD RIGHT NOW) based on the fact that I looked at Montreal's schedule this year and counted up 18 regular-season games and 2 exhibitions.  As an added handicap, my confidence points only go up to 8, because there are only 8 teams.  If I still manage to beat either Pat or Lou, he should be very ashamed.
Before I begin, I should point out that my extensive research process turned up an interesting fact: Last year was the first time ever that every CFL team was under the salary cap.  Good to know. Anyway, here goes:
8. Saskatchewan UNDER 6.5
Saskatchewan, besides being hard to type, is the biggest longshot to win the Grey Cup at 9/1. They're also the most remote team, hailing from some God-forsaken place in the middle of nowhere.  They might not even be in a province for all I know.  We know about the dangers of a West Coast team travelling East in the NFL, but this should be worse: A North Pole team travelling South.  And probably East most of the time, too.  Add in the fact that ever since Ottawa folded, Saskatchewan are the only Roughriders left in the league, and I say they go under.  This is my Lock Of The Week!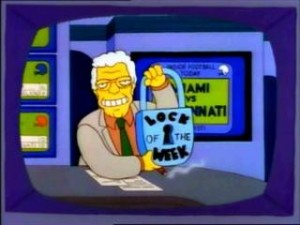 7. Montreal OVER 9.5
I like their city, I like their team name (Alouettes), and their jersey is so heinous that it has to distract the other team.  Plus they have a unique homefield advantage in that the visiting team is so worn out from the strip clubs and hookers that they can't give 100%.  Plus their QB was the subject of a good article on Grantland.  This is my Shoe-in Of The Week!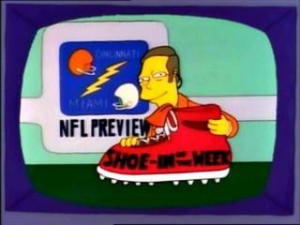 6. Hamilton OVER 11
They are the 4/1 favorite to win the Grey Cup, and their name is the Tiger-Cats.  Not the Tigers, mind you, the Tiger-Cats.  I'm not sure if this is just Canadians being over-specific, or if they're talking about some bizarre mad science-style housecat/tiger hybrid.  I guess the idea behind that would be something that looks mostly like a tiger, but is smaller and capable of being domesticated, so that it doesn't maul you during your magic act?  Anyway, I like the over.
5. BC UNDER 10
Even when it doesn't stand for Boston College, BC still sucks.
4. Toronto UNDER 8
I'm assuming the Argos have the same problem as the Leafs – ownership knows they don't need to put together a competitive team because the fan base is so rabid no matter what.  Plus I don't like the fact that they gave away a home game to Buffalo.
3. Calgary OVER 9.5
Calgary is home to Bret "The Hitman" Hart and the biggest rodeo in North America, and that's good enough for me.
2. Winnipeg OVER 9
Winnipeg's team is called the Blue Bombers, which was also a nickname for Mega Man back in the 90s.  I played a lot of Mega Man video games back then, so I'm taking the over.
1. Edmonton UNDER 7
If you've been paying attention, you'll notice that the win totals I made up add up to 70.5, which is 1.5 less than the total wins available.  (You'll also notice that some of your life choices have been highly questionable.)  Given that, it seems like I should've picked more overs than unders, but let's face it, I don't really care.  Nor do I care to find out anything real about Edmonton or its team, so here's something I just made up:  The Eskimos' stadium is large enough to fit the entire population of Edmonton.  Sadly, this makes it the smallest stadium in the league, with a capacity of just 3,500.  With very little crowd noise, look for Edmonton to suffer at home.  Take the under, then sit back and pop the bubbly.