NFL Week 12 and Coupe de Grey Final CFL
Holy big lines, Batman! Lots of double digit lines this week.
Chicago +14
One of the best teams ATS this year. Philly also due for a letdown game.

Cleveland +8
That time of year where I keep betting on Cleveland every week until they win a game, if they do.
Tennessee -3.5 (EVEN)
If Brissett for the Colts was healthier, I'd stay away…but we are one hit away from the Scott Tolzien experience. Which is less of an "experience" and more of a "shitshow".
TEASER: +150
KC -9
NO +2
SEA -6

DFS: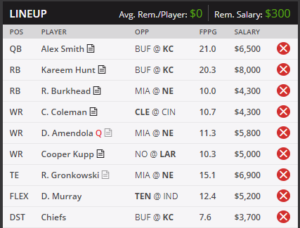 CFL Coupe de Grey Final
Calgary -7 (-115)
I picked Calgary to win before the year because they have the best QB in the CFL I believe, in Bo Levi Mitchell. He's been great in the last few weeks after a slow start, and he got most of his injured receivers back. I say Calgary gets back into CFL glory with a win today, and Bills fans cry everywhere knowing they have had *2* CFL champion QBs on their roster at one point (Flutie, Mitchell with a win today) while they keep trotting out whoever bag of shit they have at the position.