NFL Week 4
To be honest, a real crappy week of games. I don't really love anything (still gonna bet though #degen). Although I refuse to bet on Jags vs Jets….that's when you know you have a serious gambling problem.
I couldn't even find a 3 team teaser this week, the games are that shitty!
Philadelphia +1 (-105)
The Chargers might kind of stink. Philips Rivers is starting to get tilty. Both of these teams will try and lose the game. It should be fun.
Steelers at Ravens Under 42 (-110)
Both teams are coming off a loss vs shitty teams last week. Both teams hate each other in the NFL's most physical rivalry. The Over/Under for personal fouls set at 1.5. This should be a rock fight.
New England vs Carolina Over 49 (-110)
DFS:
New England's combination of great offense (avg 33 points per game) and worst defense (on pace to break the all time record for yards allowed in a season) has enabled them to be 3-0-1 vs the Over so far this year. Carolina's offense is struggling and will try to run the ball but I even think they'll have success enough to score 17-20 points.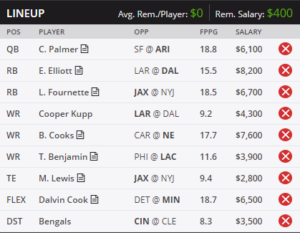 CFL Bonus:
Winnipeg ML +150